As early as it may seem, but spring will surely come! A time for us to say our goodbyes to the cold, frigid, and freezing wind and to say our hellos to the sun, flower, and warm breezes. Not to mention our winter clothing, new sets of outfits will sprout in your wardrobe, stepping out at your door with chic and fabulous style every day!
Choosing an outfit should not be a remarkable feat. It might seem impossible for you to have a trendy outfit this new season—but it's not! We have chosen and picked the chicest and cutest outfits that you can run around in vernal. As some say, spring is the season of a new beginning, so is your style and fashion indeed!
BE CALM WITH THIS WHITE DRESS
Planning to stay home and not do anything is not unusual every spring season, so dressing in this Long-sleeve Dress might be an option for you! If you're a conservative type and want to look chic and adorable while at home, then this mini-dress is the right fit for you. Its high-above the knee design will emphasize your long and sexy legs, while the long-sleeve for added sophistication.
COVER YOURSELF WITH THIS FLOWER DRESS
Getting a dress that can match the spring season is another way to style your fashion. It's like matching the theme of the party or events that you're going to, right? And since flowers are everywhere every spring, then why not get a floral printed dress, as easy as that! This Print Dress got what you want, printed with floral, and has a front button closure that you can unbutton anytime for a more in-depth v-neck design.
SIMPLICITY IS BEAUTY—MINI CAMI DRESS
Simplicity is beauty, and you can quickly see its meaning in this Tiered Mini Cami Dress. Its off-shoulder design gives off a conservative yet sophisticated aura that matches the calmness of the season. You can wear this casually at home or while talking for a long walk in the park and getting a cute sandal or sneaker to complete the outfit.
GIVE BOUNCE TO YOUR STEPS WITH A RUFFLED DRESS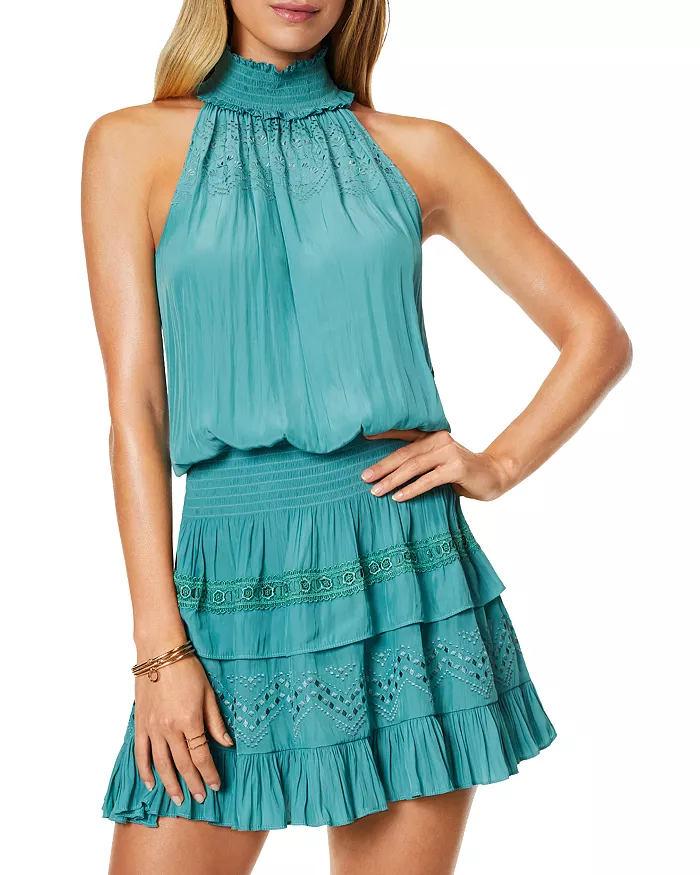 We get the feeling of joy and happiness from wearing the outfit that we dearly love! We got that confidence walking around knowing that we're looking fabulously chic and cute. This Ruffles A-Line Dress is perfect for ladies that are proud of their body figures. A combination of a sleeveless top and a mini-lace skirt!
RELAXED USING A MAXI DRESS
It is fun to walk around the park or attend an outdoor activity every spring—being one with nature from time to time is not a bad idea, though. But due to this pandemic, we are often staying at home to protect ourselves from the spreading virus.
Hoping that we can do something about that, but we shouldn't compromise our love for fashion as part of the fashionista's world. We are styling our outfit with this Striped Maxi Dress while at home is one of our options! The long sleeve skirt and the printed line design for a sophisticated and casual ambiance.
YOUR ON-THE-GO GETUP
Mixing and matching is a perfect way to achieve a unique yet fashionable style. This spring season, there will be no limits on what we can do about our outfits. We can get a bottoming fit dress, jeans, or a ripped one will do, plus a jacket or sweater to tie around our waist for a perfect on-the-go getup!
ENTICE AND CAPTIVE WITH THIS CAMI CROP TOP
Since we are not bound to winter's chilling wind, we can now turn to our crop-top dresses! A warmer season needs a comfortable dress, believe us because you don't want to see yourself sweating all the time.
A crop top with a jean or skirt will be chicest spring outfit everyone will be thinking off right now. But remember, wearing a crop top is all about balance; you may want to wear some not too revealing-skin attire at the bottom, like leggings or pants.
EXPERIMENT AND PAIR UP: BUTTON UP WITH CROP TOP AND JEANS
A button-up, crop top, and jeans have been the latest trend last spring and will be the anticipated and in-demand trend to come! A must-have piece for everyone to have in their wardrobes. Experimenting with some clothing such as a shirt or denim pants will be an outfit that may also look good with this Corduroy Button Up!
Feel and look good with these Spring outfits by incorporating simple floral dresses, white and calm dresses and crop tops! Being comfortable is the way to design your fashion trend this season. As there is no right or wrong in fashion, being unique is a must-have attribute for any outfits that you'll be pulling out.