Spring is the season of colors. It brings out so many beautiful fashion choices into play and fashion pops the best in this season. It allows us to wear our favorite fantasies and bring out the wild, vibrant colors into play. One of those colors is blue, which looks amazing on all kinds of skin complexions. To do justice to the color, one needs to style it well so that it adds to everyone's fashion game. So, let us look at some of these styles that you can add to your wardrobe selection.
With a polyester finish, and a slight stretch capacity these jeans can be styled with a bright blue shirt to complement the color. This is easy to pull off for someone with a vibrant, cheerful personality. The flared legs give a beautiful cut to the outfit and make you look stylish and chic. To accessorize this, you can put on a gold chain necklace to make it look even more stylish. So, what are you waiting for? Put on these jeans with a beautiful blue shirt and get ready to turn some eyes.
This rendition of the traditional pinstripe in blue and cream gently cloaks these barrel-leg trousers for a summer-ready finish. They are suspended from an adjustable waistband and turn-up cuffs to accommodate varying heights, frames, and temperatures, making them perfect for spring. A pastel blue shirt with these pinstripe pants would make for a lovely look. This style is so casual and yet so formal, it will go for any occasion. So, wait no more and get this classic look for yourself. Pull this off with a cool jacket if you want to.
This track pant effortlessly strikes a mix between sporty and smart, complementing both off-duty and office-ready ensembles. It's made of a luxury Ponte jersey and has an elasticated waistline with contrasting side stripes for a fitted look. This look is casual yet strikes a professional aura in its entirety. It looks amazingly comfortable and will definitely be a great ensemble if you choose to do it. So wait no more and get your hands on this look and get ready to turn some heads meanwhile. Carry this with power and a strong look on your face.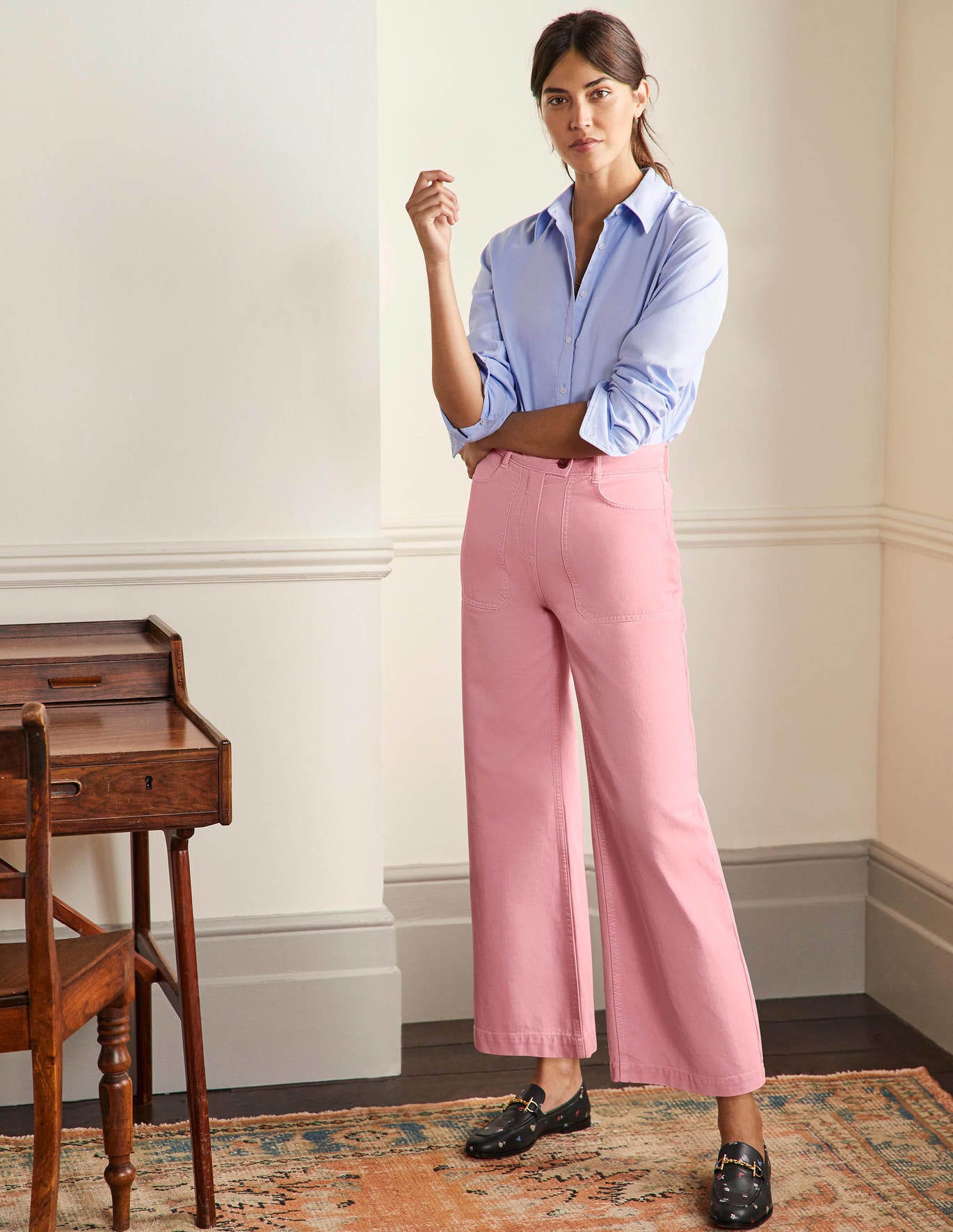 By day, these ankle-skimming trousers are workwear, and by night, they are sharp style. They are semi-fitted, and because they are made of heavyweight cotton twill, they are structured and keep their shape. They have deep pockets in the front and back, giving them a utilitarian feel. The high waist closes easily with a mock-horn button, and there is an angled seam at the back for that extra definition we can't get enough of. So, what are you waiting for? Get this stylish combination and take your style game up a notch.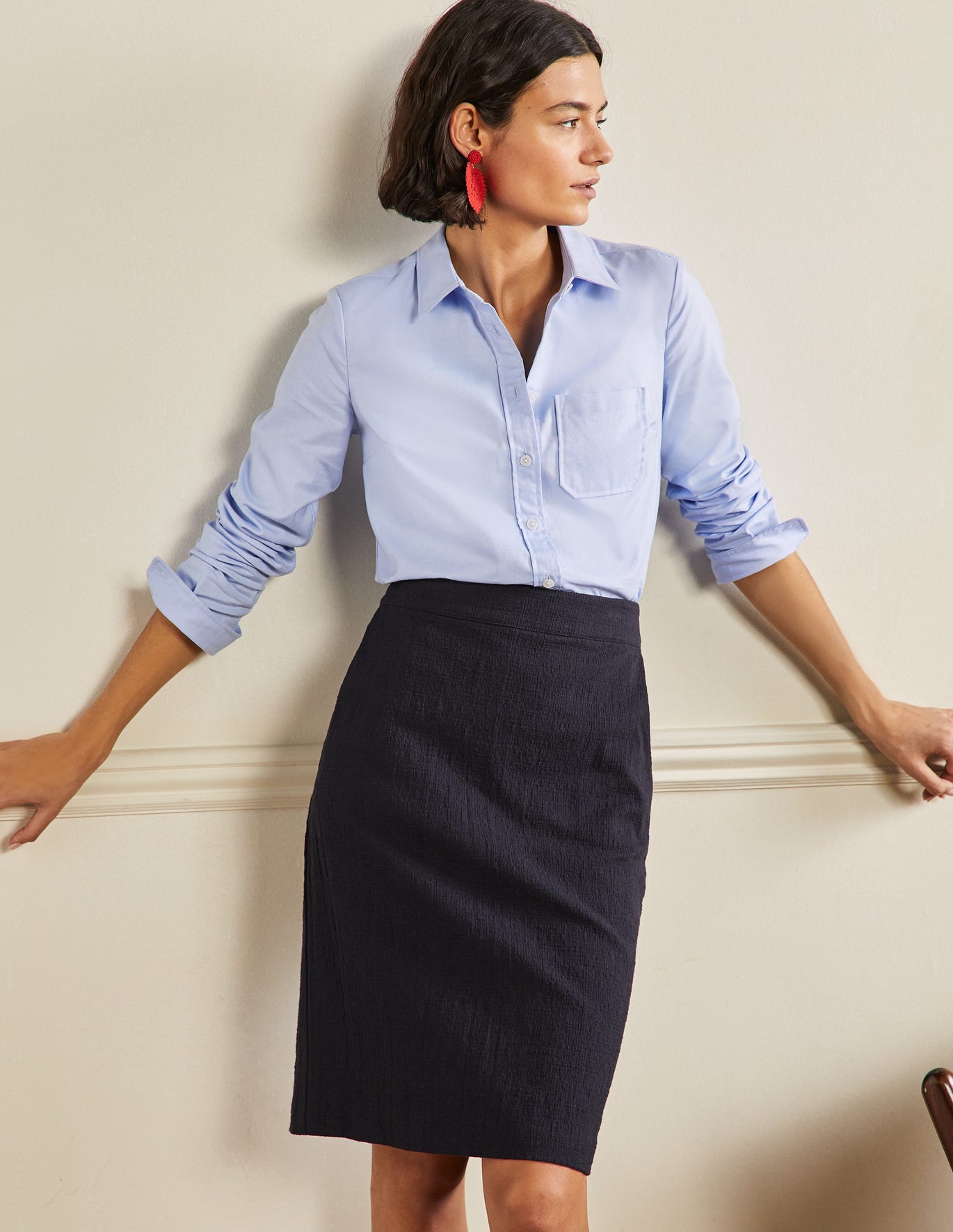 With our classic pencil skirt, you can put together a sophisticated outfit in no time. It's trimmed to a comfortable knee length and has a clean fitting design with back darts that flatter. We've inserted useful pockets into the side seams to keep the finish streamlined, and the soft cotton-blend fabric has a hint of texture – since it's always a 'yes' to further refinement.
Colors abound in the springtime. It brings a plethora of lovely fashion options into play, and fashion is at its finest this season. It allows us to dress up in our favorite fantasy and play with wild, brilliant hues. Blue is one of those hues, and it looks great on all skin tones. To do the hue justice, it must be styled effectively so that it adds to everyone's fashion game. Now that you know how well you can style these, get your fashion game running wild and get all your blues out of the wardrobe.