Skirts suit fashion is never shying away, not soon. The recent top fashion designers, like Oscar de la Renta and Michael Kors, have revived the silhouette with options that feel very right. The new skirt suit comes in a plethora of style personas. With its coordinating fabrics, it is a super-easy trend to style. Here is the best skirt suit for every girl in autumn.
Women's Straight Fit Suit Skirt
The skirt hits below the knee, and the cut is simple and professional. This skirt suit you can wear it a lot of times without it looking repetitive. The good thing about it is that any girl can wear it with any body type.
Button Notch Collar Skimmer Skirt Suit
The skirt suit gives you the feeling of being polished, relaxed, and competent from dawn to dusk. This will be the skirt suit to dress up if you want to go formal.
Plus Size One-Button Crepe Jacket and Column Skirt
The plus-size blazer is a classic career element elevated by the extended silhouette of a midi-length column skirt. The suit is date-night approved, girls' night ready, and totally official.
Milange skirt suit conquers the office with sleek lines and intriguing melange coloring. The suit is timeless and easily adaptable to myriad styles, wear it with chinos and sneakers for those downtime days. It comes with front button closures, notched panel, and shoulder pads.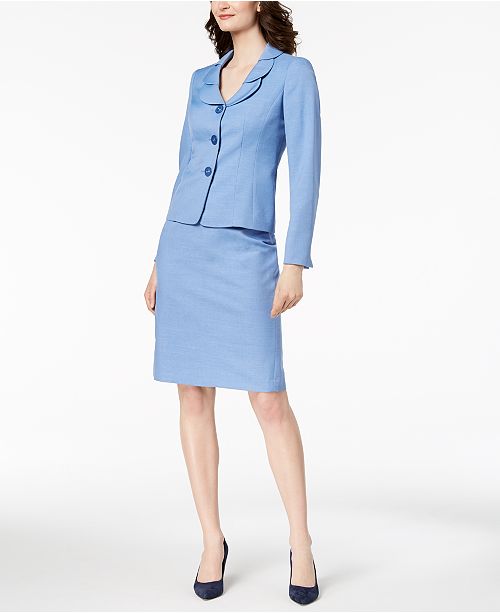 It's a sleek complement to your closet. Its slim skirt and wing-collar jacket make for an excellent match. The petite suit also adds a sophisticated style to your workwear collection and on special occasions.
Skirts are a necessity in the fashion of any woman. They are an essential piece, whichever your taste. There are models, however, which are more appropriate for different types of bodies. It's worth keeping a few tricks up your sleeve to flatter your style even when fitting in whatever you want. The skirt suit should make you look stylish, look good, and feel comfortable. Try one of the above-listed skirt suits this autumn season.