Fashion
Scarves Can also be Worn in Summer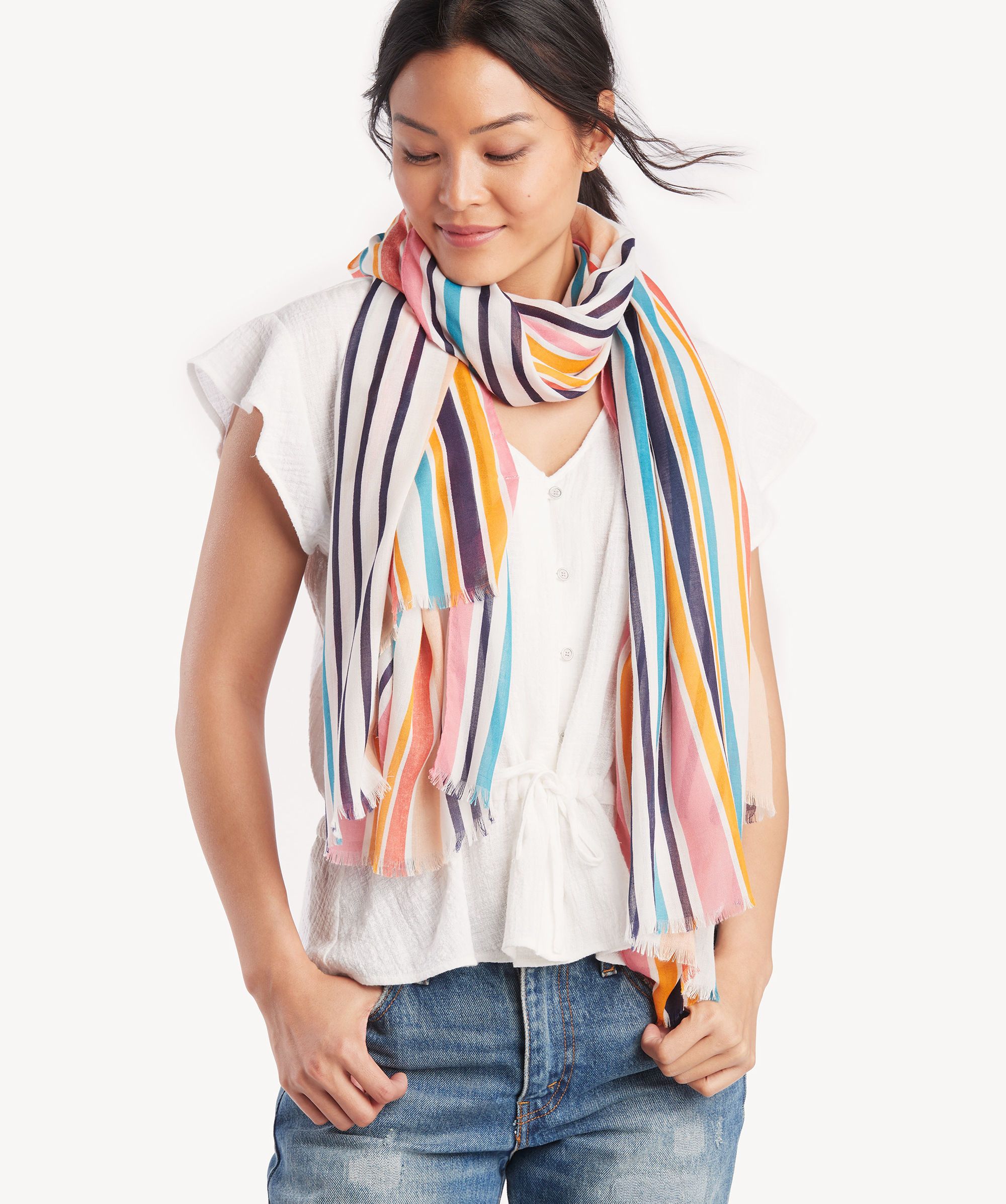 With the birds chirping loud and the daffodils blooming, the weather is set to make the earth beautiful. When it has so many things to look good, then why not beautify yourself with the vivacious range of scarves? Wrap some sunshine around your neck with some of the most lively spring scarves. These fashion scarves will make you look charming and gorgeous when worn over some airy and lightweight dress.
Shop for some of the most vibrant and beautiful collection of spring scarves to reflect your mood each time you wear them. All these scarves are light, airy, and elegant and also suitable for all occasions. You can also browse through the scarves' collection and check the thin scarves and wide scarves for more options. Spring is the time of a new beginning, thus why not get a new scarf for yourself?
Scarf makes an affordable and easy way to dress up your wardrobe. An elegant scarf makes you look more feminine. Even a basic scarf keeps you warm in the spring and looks stylish at the same time.
It is good for many combinations. You can tie your scarf to your bag; you can use it as a belt, you can tie your hair up with it when you are sitting by the sea and wrap it around your neck when the sun starts to set.
Are you bored with all your tees and tank tops? Desire for a glossy new collection of spring dresses? Well, just before you swap your summer closet, try to refresh your existing attires with some simple tricks: that is with summer scarves. Just a rightly tied scarf makes your simple attire look new and smart. If you have the mind to accessorize your clothes with nice pashminas, neckerchiefs, and some finely printed square scarves, you can increase the life of your existing closet without digging a hole in your wallet.
Scarves not only give life to your clothes, but they also save you from bad hair day. In case you do not have time to wash or style your tresses, then taking help from the large scarf is a good idea. You can use it as a head wrap and look fashionable at the same time.
They are kryptonite to the bad hair days
Scarves are fun to wear and also looks cute
Affordable accessory to refresh your closet
The potential to accessorize with a scarf is boundless
Before we start with the spring scarf-wearing tips, make sure that you have ample of scarves of all sorts to have a new look each time you step out of the house. Find cheap, bright, printed, silk, cotton, vintage, etc. scarves to try on new styles for different events. You can easily find all these scarves online without much hassle and at best prices. Once you have a happy collection of scarves, test some of the scarf tying techniques.
The collections of the spring scarves are as eternal or ageless as they are seasonless. The spring scarves are style-savvy and go perfectly with the girls who like to buy things which exceed seasons and can also be matched with almost all of their outfits. This is the perfect accessory that can be worn in spring without thinking much about the fashion as these never go out of fashion.
A scarf is the best accessory that accentuates all sorts of dresses without digging much in your pocket. Apart from enhancing the overall look of your outfits, a smart and elegant piece of scarf also highlights a numerous range of hairstyles. You can use your scarf as a headband, bandana, or even a ponytail holder. The less conservative way of integrating a scarf in your hairstyle is simply to braid it in your hair. Doing this highlights the length of your hair and also add a ting of flair and color.
Wearing a scarf is the best way to accessorize your style. You can try new styles and experiment with your looks each time you wear a scarf. Now that you got to know some of the classic scarf knotting methods, it is time to get yourself a collection of scarves to help battle each style when you wear a scarf.
The arrival of the spring season brings a lot of changes with itself—for instance, a change in the wardrobe. One of the most essential things that you need to include in your closet is a nice scarf. But why a scarf? Well, a scarf is one of the most essential accessories that work best and can be worn in spring.