Whether you're a stay-at-home mom or dad, on a school break, or has a lot of time, being productive, artistic, and expressive during this pandemic can help you deal with stress and anxiety. Did you know that crafting can help you learn new skills, enjoy a new hobby and possibly discover a hidden talent?
We're not just going to create any craft for the sake of doing it. Create DIY crafts that are useful for your daily life and easy-to-do with materials you most likely already have in your home!
Check out these 5 DIY Crafts you can do with your family or friends:
DIY DECORATIVE AND FUNCTIONAL TIN CANVASES
Instead of buying those expensive vases or cans, why not make your own that can match your house's interior design? Not only will you be able to decorate your house, but you can reuse and upcycle your tin cans with cheap art supplies. Here's what you'll need:
1. Tin cans
2. Wallpaper or decorative paper
3. Paint
4. Setting spray
5. Scissors
6. Hot glue gun
7. Decorative items
8. Double-sided tape
INSTRUCTIONS:
1. Ensure that the tin can doesn't have sharp edges that can potentially injure your hands.
2. Choose the design you'll create for the tin cans. You can match the design with your house's interior or theme.
3. Cut the wallpaper or decorative paper according to the tin can's size.
4. Paste the decorative paper using glue or double-sided tape. Ensure that the edges are well pasted or taped to the tin can.
5. You can design the rin can with rhinestones or washi tapes.
Instead of using scrapbook papers, you can also spray paint the tin cans inside and out so that you won't have to worry about the form getting destroyed if it gets wet. You can choose rose gold, silver, or white colors for an aesthetic feel.
FANCY GOLDEN CANDLE HOLDER
Relaxing with a scented candle at home while watching Netflix, working, or studying is always a nice treat if you're having a stressful day. You don't want to put your candle just anywhere, as you want it in a safe place. Don't just put it in a flat glass but make it a cute part of your interior by creating a fancy golden candleholder! You will need these items:
1. Used plastic spoons of the same size.
2. Hot glue gun
3. Paper or mat
4. Spray paint with the color of your choice
INSTRUCTIONS:
1. Carefully cut the heads of the spoons and ensure that they're the same size.
2. Cut your paper or mat in a circular pattern. It will serve as the foundation of the plastic spoons.
3. Spray the plastic spoons` heads in the color paint that you prefer.
4. Use a hot glue gun to put the spoons` heads in place. Start by placing the heads on the outer section going inwards.
5. To create the look of petals, ensure that there's enough space for the tea candle.
TWINKLES OF LIGHT IN AN ART CANVAS
Add some glow and a cute accent to your wall by putting in fancy art that you can make with simple materials. It's a beautiful way to bring life to your bare wall. It'll look so magical, especially at night! You can create this lovely craft at home by following the tutorial by Joann's.
ORGANIZED SPICE RACK
Give your pantry or kitchen a brand new feel by ensuring that your spice rack and cooking ingredients are well-stored with the bonus of looking aesthetic! Here's what you'll need to upgrade the look of your pantry:
1. Matching jars
2. Sticky labels
3. Shelves or rack
4. Pens or any writing tools
5. Paint and paintbrush (optional)
INSTRUCTIONS:
1. Start by doing an inventory of your spices or cooking ingredients. It's good to have a list of what you have so you know how many jars you need and what to put on the labels.
2. You can print the sticker labels or write on them for a shabby chic look.
3. Put up your shelves or get a pantry or crafts rack with wheels.
4. Stick the jars' labels and start transferring your spices and cooking ingredients inside the new jars.
5. Stack or organize your jars horizontally for a neat look.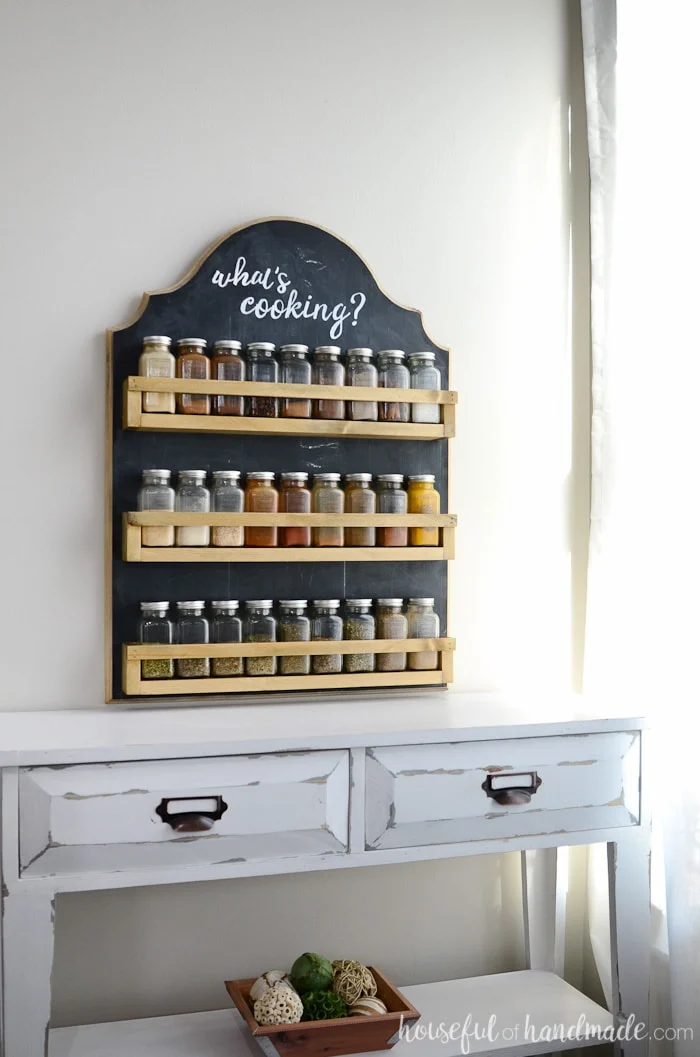 You can also get a chalkboard you can DIY, so your little spice jars are accessible on your wall. You can even arrange them in a way that would help you to find them more comfortable when cooking certain dishes!
CANVAS FRAMES FOR DÉCOR
If you want to have unique wall art but don't want to spend hundreds or even thousands, a canvas frame with geometric designs using tape and paint that you can do yourself is perfect! Not only will you have a unique art personally created by you, but you can also choose the color scheme that matches your interior design.
All you have to do is get a canvas, paint, and tape that you can easily take off without ruining the canvass. Put the tapes in the angles you prefer, and start painting! You can be creative, use one or multicolors to create your art! Once you have finished painting, please take off the tapes thoroughly once dried, and voila! You have a lovely little artwork without spending so much money!
Now that most of you are at home, make use of the extra free time to get crafty and creative to improve your home's interior. Once you've mastered the art of DIY projects, you can even move on to possibly selling your masterpiece! What do you think? Let your minds dive into thinking the coolest ideas, and let your hands do the work!