Trends in clothing aren't simply for special occasions or wild nights out. Women can easily find many comfy and stylish looks to wear around the house or when running errands. The following fashion trends are simple to incorporate into your regular attire.
Athleisure
Over the past few years, the trend of athleisure has become increasingly popular, and for good reason. It's a cozy and fashionable way to wear sports clothing outside of the gym. Consider wearing shoes with leggings, a sports bra, and a sweater for a comfortable yet stylish outfit.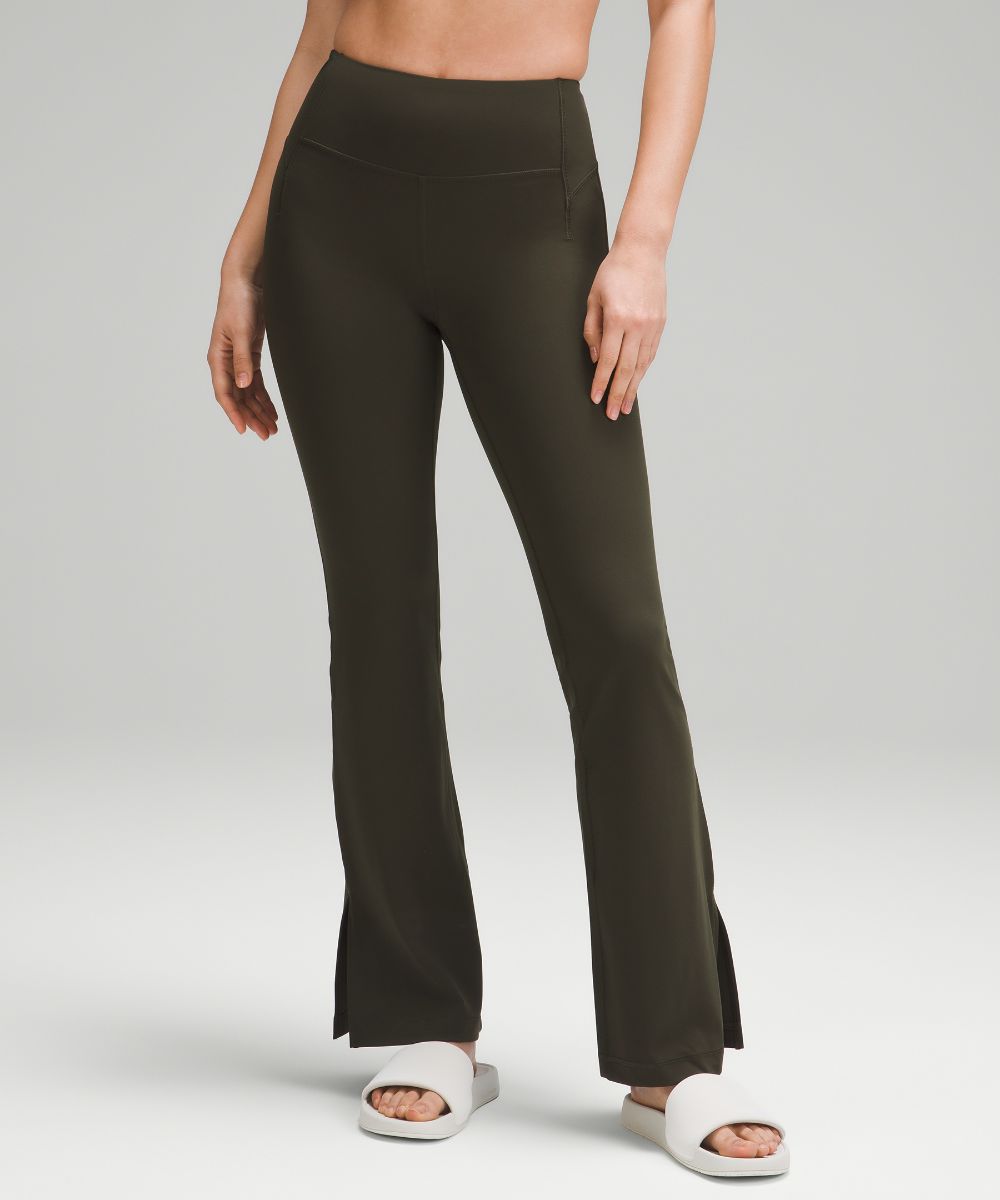 Groove High-Rise Split-Hem Flared Pant
Nulu Asia Fit
You can combine and match various elements to put together a coordinated ensemble if you want to wear sportswear at home and yet look cute. Consider wearing a sports bra under a loose tank top and wearing high-waisted leggings or shorts with the ensemble. Additionally, you can accessorize with a chic headband or scrunchie and add a splash of color with colorful sneakers or interesting socks. For the best at-home sporty style, remember to pick fabrics that are breathable and cozy.
Oversized Sweaters
Wearing an oversized sweater is a stylish and easy way to stay cozy at home or while running errands. The loose fit will make it easy to move around.
For a stylish look, use them with leggings or thin jeans and ankle boots. You can also add small gold or silver jewelry.
You can wear an oversized sweater with leggings, slim jeans, or biking shorts to look fashionable while lounging at home. You can also accessorize with a belt to cinch in the waist and add some shape to the outfit. You can pair the sweater with knee-high boots or sneakers for a stylish yet cozy appearance or layer it over a collared shirt. To give your clothing some intrigue, try experimenting with various textures and fabrics. Finding the ideal mix between comfort and style is ultimately important.
Denim Jackets
A timeless piece of clothing that can be dressed up or down is the denim jacket. They're ideal for matching with a maxi dress for a more feminine look or for layering over a simple t-shirt and jeans.
Although some would argue that it`s no longer in trend, denim has always been a classic whether it`s with pants or jackets. It`s a neutral fabric that`s great for casual wear.
Distressed Denim Longline Trucker Jacket
Chunky Sneakers
Another fashion trend that has grown in favor recently is chunky sneakers. They can add a splash of color and texture to any ensemble and are both cozy and fashionable.
Utility Jumpsuits
Utility jumpsuits are practical and adaptable article of clothing that is ideal for daily use. They can be dressed up or down depending on the situation and are cozy and fashionable.
These are excellent if you`re going to be outside all day because it will feel like walking around in pajamas. There are also strapped or strapless jumpsuits that are fitting for the summer season.
Waist-Defined Floral Utility Non-Stretch Jean Jumpsuit for Women
Mom Jeans
Mom jeans are a vintage style that has recently resurfaced. They are loose-fitting and high-waisted, which adds to their comfort and fashionable appeal. You can dress them up with a blouse and heels or go casual with a graphic t-shirt and sneakers.
Then, you can wear sneakers or heightened sandals for a street-style look. This is one of the most popular pants for casual and streetwear.
Maxi Dresses
When you want to look stylish and put together without sacrificing comfort, maxi dresses are a terrific choice. They can be dressed up or down depending on the occasion and are simple to wear.
Maxi dresses are a comfortable and stylish option for women to wear at home. They provide you flexibility and might help you stay cool in hot conditions. They are adaptable enough to wear for many events because they are available in a number of fabrics and styles. Maxi dresses are very simple to accessorize, making them a perfect choice for a simple and quick ensemble.
Women can effortlessly wear a variety of fashion trends when at home or running errands. These trends, which range from chunky shoes to maxi skirts to athleisure, are both stylish and comfy. Therefore, while choosing what to wear, think about adopting one of these trends into your regular wardrobe.