In summer, it is important to protect ourselves from the sun, especially when it is very strong during the day, so if we are already on the beach and enjoying, hats are a great thing.
Straw hats are the best hats that protect from the sun, plus you will look very modern and fashionable when you wear such a fashion detail on your head. The hats are on sale in various sizes, colors and are made of various materials. Straw hats are very wearable and I see that most girls adore them.
With a wide or narrow part, they are certainly beautiful on the head when worn. Below you will be able to see several types of hats that I chose for you to show you and suggest you look at them, they were the most beautiful to me so I chose them, I believe that each of you can find something beautiful for yourself. I noticed that they wear more straw hats and I have to admit that they are my favorite as well. On the internet, you can find various sizes of hats which is great because of some like small hats and some big huge ones. Both are beautiful and very modern and innovative, hats can always be worn and are always welcome. In addition to floral designs, there are plenty of others you can look at, the best hats are definitely on sale this year.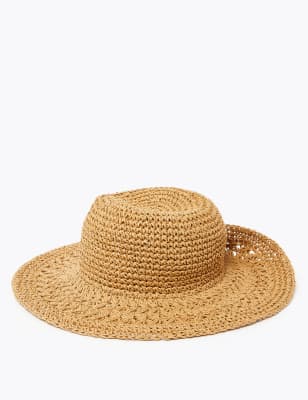 The first hat is too cute for me and as far as I'm concerned this is the ideal size I could wear on my head. I think that the size of the hat is perfect and that the fact that it is straw is an advantage because it will protect me nicely from the sun and it is also modern and very popular. I would say that this is a model that suits everyone and that girls like the most because it is really very beautiful and of high quality.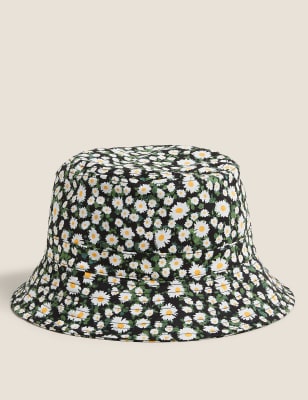 The second hat is a top for younger girls, with flowers. I wore this as a kid when I didn't even know it was popular and that it was in trend. I like the colors of this hat, it is very cute and the dimensions are great. Flowers and various other designs are very popular among the younger population. So I believe that you older ones will be delighted because I am. I wore them as a teenager and that's why I associate this model with that because it reminds me passionately of those school days.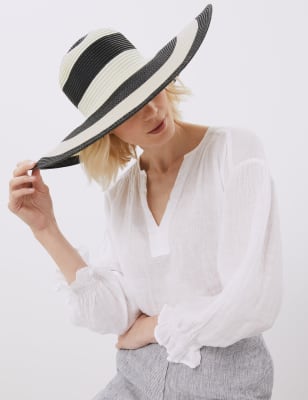 The third hat in a row is black and white, large in size, so it is great for summer and the beach. Black and white color suits most girls, with swimsuits it would be fantastic. So I imagine a combination of both black and white hats. I have to admit that this hat is excellently made, of high quality, and made of excellent material. Black and white suits almost all types of women, black and white is great whether you are skinny or fuller. I think there is no person to whom the black and white combination looks bad. So the hat was done great and a complete hit in terms of color, size, and shape of the hat. It's big enough to protect you from the sun and it's pretty fashionable.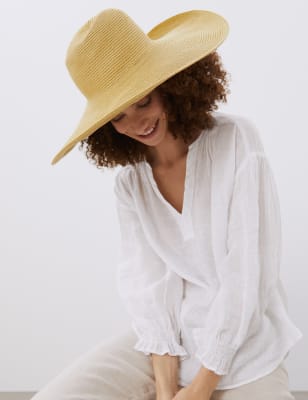 And last but not least is a huge hat, gentle without color, it is very beautiful and easy to combine, great for summer and summer sunbathing. When summer comes we all like to be outside as much as possible. If you have the opportunity to be in the sun and on the beach, take advantage of that because one is life and we need to live life to the fullest.
I saw on the internet that people went crazy for this hat and how could they not when it is so well done. It is perfect for the beach and summer, I really like the way it looks on the model, it is very beautiful and modern.
I hope you liked the hats, which one is your favorite?