Red + gray
Everyone knows that black + red is a very classic color scheme. However, these two colors themselves are very "heavy" colors, and together they will have a strong impact. So it's better to change your mind, learn from artist Judd, and use gray instead of black.
For example, many of you have a red bag, which is especially suitable for the winter holiday season to look festive. If you wear a light gray suit with a white inside and then carry a red bag, it will be much more harmonious.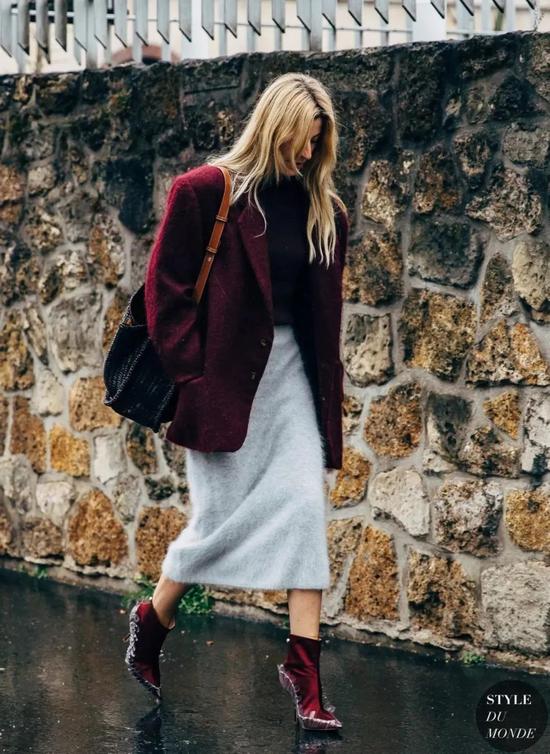 For another example, many of you have a pair of red shoes, which can be used as a finishing touch. I used to wear black with red shoes; now I wear gray with red shoes, which is a more Sophisticated color.
The colors of the clothes worn in autumn and winter are relatively dull. Many people like to wear a red dress to improve their complexion. Wear a gray coat outside. The effect is ten times better than a black coat.
The gray gets lighter is also OK. Pair it with a red dress and small black shoes. Wear bottoming socks and keep yourself warm. It's very suitable for winter wear. It's much more relaxed and casual than pure black with red~
The red can be darkened, and dark reds such as reddish-brown and burgundy are more retro and low-key, and more suitable for most people. The positive red is deeper.
Blue + silver
The second set of colors is blue and silver. It is a set of cold colors. This group of colors is very Christmas. Silver can echo the original cold color of blue. Compared with the general red and green, the blue and silver couple is more mysterious and different. Is the full screen full of high-level sense?
Ordinary people usually do not have silver clothing in the closet, but to put it another way, you probably have silver shoes or bags. Or, silver jewelry must be available for everyone.
In fact, blue can be light blue, gray can also be light gray, no matter how it matches, it is harmonious. New York blogger Amy Jackson likes this set of colors, with a gray top and a variety of denim blues, from summer to winter.
Red + camel
This set of colors is not a patent for mature women! Girls walking on the streets can also wear it. For example, in a long trench coat that everyone has in the fall, changing the black trousers on the inside to red trousers and then thickening Martin boots immediately distinguishes it from others, stylish and practical.
A large area of camel with a little red is also very eye-catching. Look at it, a camel color of different shades, and a red-brown bag, this one is too good-looking, warm and advanced, I want to copy it to my clost immediately!
More fashion dressing tips click here