The Popular Scarf Color Started
Scarves are essential during the fall and winter seasons. They keep you warm and cozy as you let the time pass by. Contrary to popular belief, scarves can affect your entire look as there are scarves that have passed the time, and there are those that are starting to trend. This season, check out these increasingly popular scarves:
BLACK AND WHITE PLUSH SCARVES
Plush Infinity Scarf Plush Faux Fur Oblong Scarf
Black and white are classic colors that you can always pair with any clothing or accessory. Plush black and white scarves are increasingly popular because of their elegant and cozy feel.
You can wear a plush black or white scarf on top of your sweatshirt, turtleneck top, or sweater dress. You can complement your scarf, white silver jewelry, and a pair of black boots for a classy look.
CAMOUFLAGE
A camouflage scarf is a great way to look casual yet put together. You can wear it on top of a basic shirt, or leather jacket. Wearing this type of scarf is an easy way to look edgy yet still cute.
You can wear a plain white shirt, a jean jacket, and a pair of black ripped jeans for a street-style look. You can accessorize with stud earrings and a pair of black combat boots. Since you would usually wear scarves during the cold season, wearing a pair of boots will keep you from getting frozen toes and protect you from slipping.
WINTER BLUE
Baby blue or winter blue is a beautiful color. Did you know that blue in interior design, spirituality, and fashion is often associated with calmness, stability, and wisdom?
Wearing a blue scarf can help you keep calm and go about your day. It also fits for the cold season because of the energy or vibe it gives. It's the color of winter too!
You can always wear a blue scarf with complementary colors like light yellow and navy blue. During the holiday season in December, you can wear it with something red to celebrate Christmas and New Year.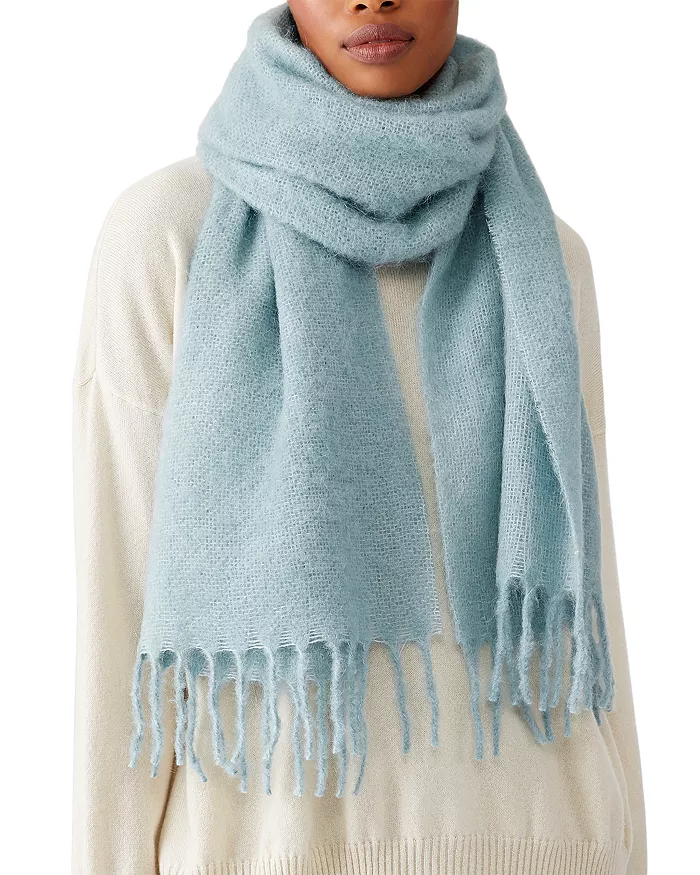 DARK GRAY
Gray is the color of neutrality and balance. You can never go wrong with wearing a gray scarf any time of the year. You can always wear it with the basics like white, black, and navy blue clothing items.
It is such a sophisticated color that you can turn a basic outfit into something that looks dressier by simply color-coordinating your outfit with a gray color theme.
RICH IN RED
Red is the color of all things vibrant and festive. If you're not a fan of very colorful and overly-accessorized outfits, wearing an all-black outfit or all-white outfit with a statement red scarf will still look minimalist with a hint of vibrancy.
You can accessorize with a matching black, gray, and white purse. If you want your get-up to be livelier, you can opt for a red crossbody bag.
PINK AND ALABASTER
Do you want to look cute quickly? Wear your basic tops or dresses, and accessorize with a lovely pink and alabaster scarf. Using this scarf is an easy way to look feminine and dressed up.
You can further accessorize with gold pieces of jewelry, beige loafers, and an adorable pink purse. You can wear a pair of ripped jeans or a matching plaid skirt for a street-style look and a plain white shirt.
HOLIDAY CHECKERED SCARF
One of the best ways to feel the season of giving is dressing up in the holidays' colors! You can wear a gray sweater dress for a minimalist and cute look and wear it with a red knitted beanie.
To complete your look for the day, you can wear a pair of black slouchy boots, silver bangles, and of course, a holiday-themed checkered scarf.
TAUPE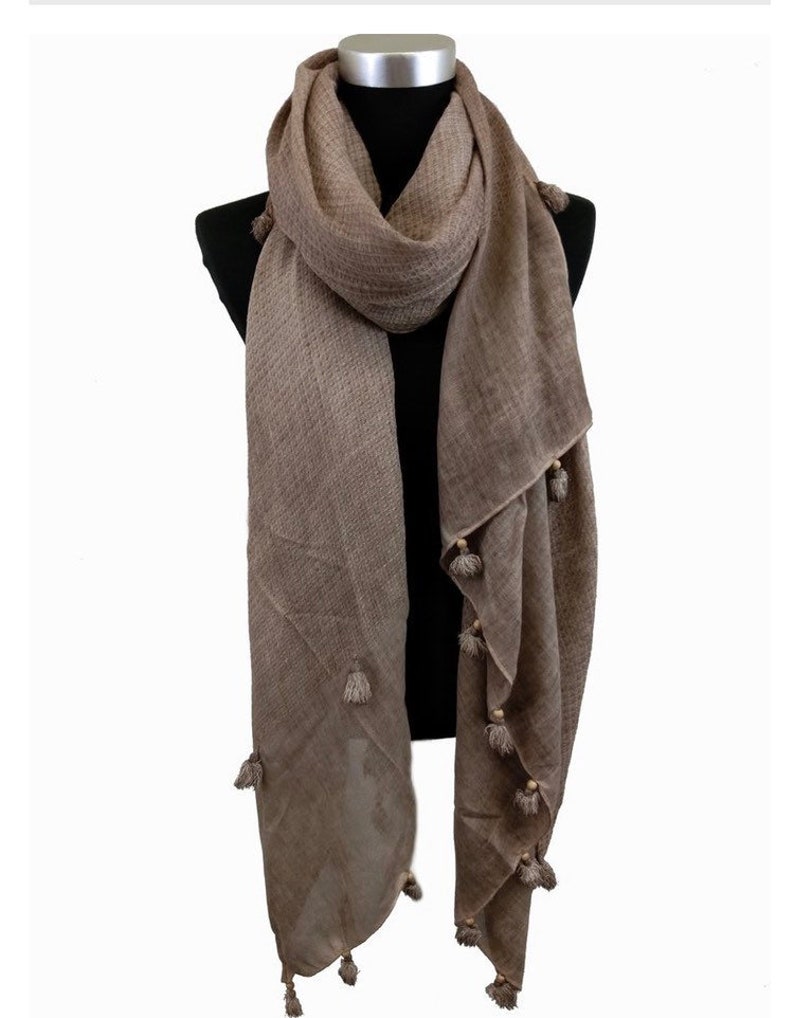 Brushed Knit Oblong Scarf Taupe Linen Scarf
Want something that you can wear throughout the year? Taupe is such a pretty and neutral color that it's easy to pair with any clothing. Whether you're going to a formal or casual event, you can always count on a taupe scarf to keep you looking your best without clashing with your outfit!
Neutral colors like black, white, gray, and taupe are some of the most popular choices for scarves, but camouflage, pink and alabaster, and checkered scarves help make your outfit stand out through a bit of pop of color in your outfit. The key to dressing your best is to ensure that your scarf's color brings out the beauty of your look through appropriate accessories and using complementary clothing items.