The choice of the coat is very important because it is the garment that will accompany you for one or more seasons. In winter, the coat is the first thing you see about yourself, so it is the garment that can highlight your silhouette and hide the extra pounds if you find the right model for your morphology. But how to choose the perfect coat? Which cut? Which color? Can you follow the trends? How many important questions! To choose it well, on the day of purchase, wear the clothes you use in your daily life, follow our fashion tips!
The right coat for your silhouette
Like all women, you dream of finding a coat that elongates your silhouette: try different styles to find the one that suits you, and don't rush to buy it.
If you are short: avoid long coats, better the straight coat that reaches the knee to highlight the leg and above all to lengthen your silhouette. Yes also to jackets, colored coats, leather jackets, and coats with kimono sleeves. If you are short and curvy, go for sober coats that reach mid-thigh and avoid bright colors. Choose a straight or trapeze-shaped coat with a belt.
If you are tall: try to respect the proportions. Yes to the oversized coats that are in fashion this year! If you are very tall (more than 1.75 m) and your height makes you uncomfortable, you can choose a short model under the hips thus trying to "break" the silhouette with two contrasting colors like black jeans and a red jacket. If, on the other hand, you are tall and curvy, opt for a model with a belt or a trapeze line.
The extra advice for curvy women: avoid bulky volumes or accessories such as hoods and buttons: the zip is preferred. This year belted coats are in fashion. Avoid real or fake fur, double-breasted and jackets.
The choice of color
You definitely have a color that suits you: so don't stop only at the black coat because you have a few extra pounds! The color of the coat is very important because it is what strikes you at first glance when a person meets you. To choose it, take into account your morphology but also the color of your hair, your complexion, your eyes. Know that a colored coat can amuse you at first but after 1 month you might hate it, so it's okay if you already have classic coats inside your wardrobe with which to alternate it, otherwise, it is better to choose a neutral color that will accompany your style well and not it will tire you: it will be a safe value to be exploited throughout the winter. For the touch of originality, you can always play with accessories.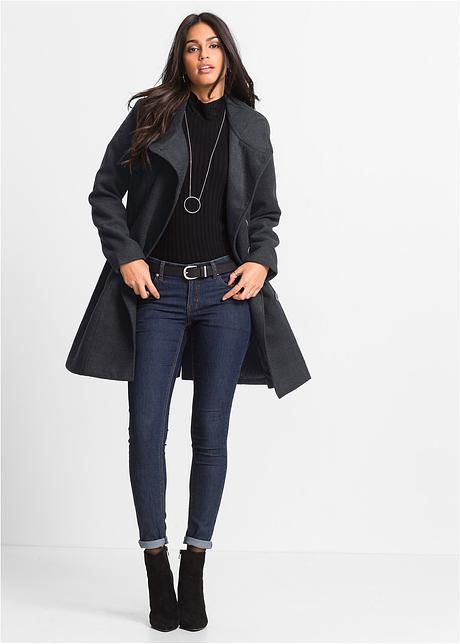 The quality of the fabric
Before purchasing, you must ask yourself an important question: are you looking for a coat for every day or to wear every now and then? For a coat that you will wear all winter, you can choose resistant but still warm fabrics such as alpaca, cashmere, pure or not 100% wool. A percentage of polyester or nylon may be welcome to reinforce the quality of some fabrics as nylon is a very wear-resistant fiber while polyester does not crease easily.
The importance of length
There are 3 criteria that are much more important than fashion diktats to follow: in addition to size, your lifestyle and your resistance to cold are also important.
If you are an active woman/mother who spends all day getting in and out of the car, from home, or the office, it is better to focus on a comfortable length under the buttocks and choose between a cape and a jacket.
If you are a woman who walks a lot, choose a model ¾ but avoid maxi coats: you run the risk of walking on them and falling every time you get on or off the bus!
If you have a job that forces you to constantly move, choose a long, warm coat that will protect you from the cold.