Every neat woman wants to look organized. Coin purses come in handy. They might seem small, but they are beneficial in terms of organizing your handbag. The wallet lets you keep all change in one place. At least you are sure you will not lose a dime at the bottom of your bag—they, not only store coins but also debit cards and ID.
There's a wide selection of fashionable coin purses with different features like ID windows, keyrings, mobile phone pockets, and card pockets. You don't have to walk with a more cumbersome pocket as coins jingling sound. Get yourself a cute, stylish purse to make your life much more comfortable.
Fashion Lux Round Coin Purse
The coin purse is best for the minimalists who carry essential that is their cell phone and few cards. It can also be tucked inside a bag for a more accessible organization.
Thom Browne Round Coin Purse
The purse is simple and chic. Made of black leather and contrasted by a red, white, and black stripe over the center. It has a gold zipper with a key ring attached. It is best suited for those who love compartmentalized designed coin purses.
Coin Purse With Double Clip
This coin purse is a two in one with a double metallic frame. It also has a zipper pocket in between the two, which opens at the bottom.
Double Kiss Lock Coin Purse
The double lock prevents coins from falling out. It's sturdy and well made to secure your belongings.while most coin purses are small, this one is slightly bigger, which can accommodate more particulars.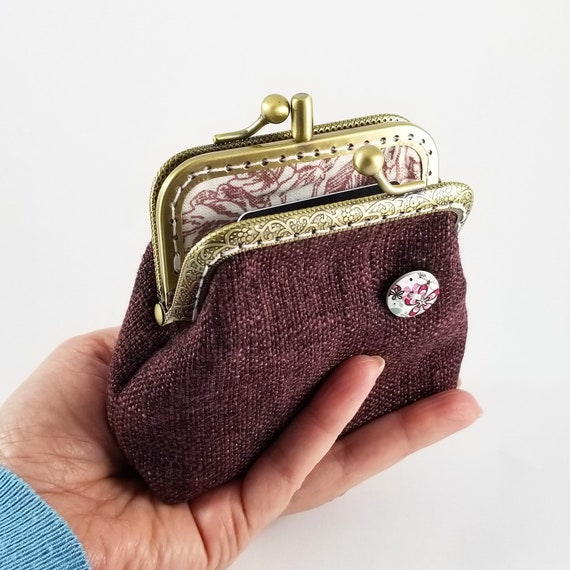 Leather Three Zip Pouch With Key Ring
This pouch is great for cash, cards, and keys. It has a zipper pocket on each side, and the center zipper pocket has a key ring. Inside it has card slots and flat pockets.
Do not underestimate the power of these small packages. Their small size is what makes them so useful. Every woman should have one in her handbag. They are vast and varied enough to suit all your particular needs at a pocket-friendly price.