As autumn is rounding up the corner, it is time to shake your wardrobe with some misses and matches. The first preference for a piece to wear is a shirt so it is time for some styling tips for what type of shirts to wear in the fall and some basics on how to choose the best shirt for yourself during the fall.
Given below are some tips on how to choose the best shirt for autumn and then are some basic things to keep in mind while choosing a shirt:-
1. Play with colors
The natural colors of autumn look great only on the trees and to make those colors a part of your wardrobe, this fashion is somewhat outdated. Wear colors that make you feel fresh and pleasant. You don't have to wear the burning orange color just go for a mix of fresh colors with some neutral dark ones in the mix.
2. Dress for the occasion
Keeping the occasion in mind choose the shirt from your wardrobe. If you have an official evening or a formal event to attend you must choose a light color long-sleeved shirt with stripes on it and you can also put on a blazer to give it a more formal look.
While for casual occasions you can just roll up the sleeves of the shirt or go for short sleeves round-neck shirts to match the environment. If it is still cold outside you can just put a matching scarf around your neck which will just nail a hole in the coffin.
3. Do not go for creases
Wearing the best color shirt that suits you and matching it with different accessories will be great but not ironing the shirt will just steal the charm of that outfit. Wearing a creased shirt makes your personality look as if you are very messy. So to avoid such assumptions always iron your shirt and make your outfit look the best.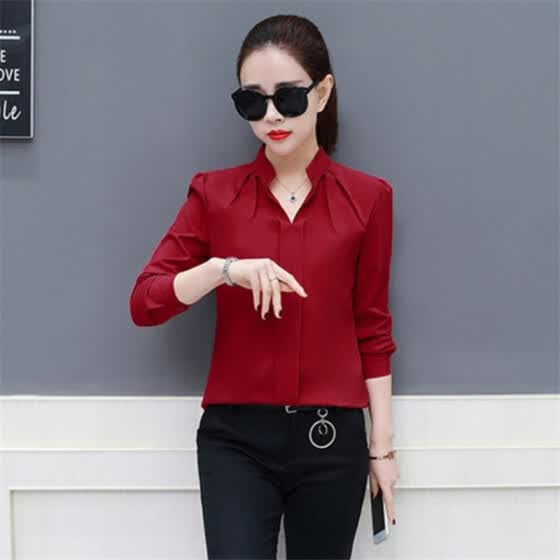 Following are some basic tips to choose a shirt
1. When you close the collar buttons of your shirt you must have enough space to pass in two fingers between your neck and shirt. If so it means the shirt will be comfortable enough when you are in some meeting and become nervous and start hyperventilating you need extra space around your neck as your neck expands a little extra.
2. The next criteria that can make you look at a shirt and then put it straight back on the rack without buying is the sleeve length.
If you stretch your hands straight forward the sleeve should land just a bit shorter where your wrist is and not shorter than that. Fix the cuffs tight enough, so that you can't take them off without opening the buttons. 
3. The shirt must sit close enough to the armpits but not touch them. If you don't have enough space here it will be too tight and if you sweat it's going to show immediately and make you feel uncomfortable.
So here we come to an end. We hope this article helps you to choose the right shirt to add the best texture to your fashion collection this fall.